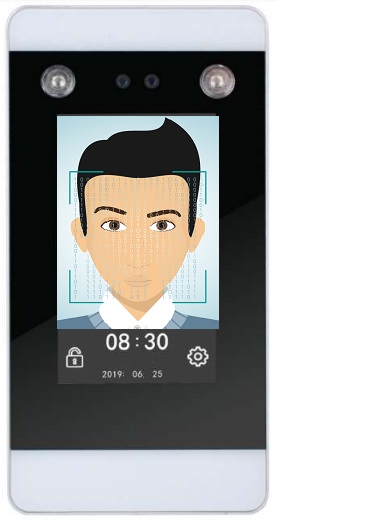 Face Recognition Attendance/Access ESF-01
Perfect balance of FAR & FRR.

Smart 4.3 inch touch screen display.

Night vision infrared, color dual cameras.

Supports cross-network connection across gateways.

Material: PC + etching process+ Mirror surface technology, Ergonomic design.

The original cross-matching technology can realize in live detection, elimate photo and model attacks.

International leading ultra-high speed facial recognition algorithm, support long range distance of 5mr.
Hardware Features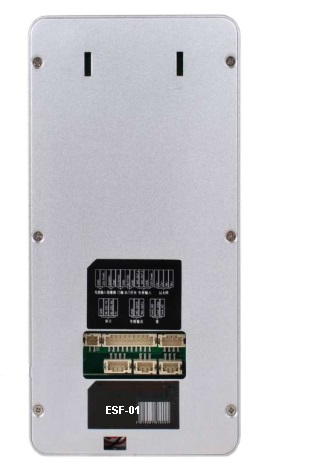 OS: LINUX.
IR LED & IR Receiver : Yes
Memory: 1G DDR3 8G e MMC.
Display: 4.3 inch HD Touch Screen.
Communication: TCP/IP, USB, U-disk, WIFI.
Camera: Dual Camera (High resolution infrared and color dual cameras).
Power Source: External 12V Power adapter can be used to Power up device.
Algorithim Features
Language: English.
Recognition Speed: 0.3s.
Recognition Ways: 1:1, 1:N.
Self- Checking Function: Yes.
Face FAR/FRR: 0.001/0.1(%).
Stograge Capacity: 200000 Logs.

Face Cap

acity: 2000, optional 5000.
Face Intelligent Update Function: Yes.
Recognition way: Face, RFID card & Password.
Door Access Control Features
Alarm: Alarm output.
Doorbell: Doorbell output.
Exit: Door switch signal input.
Door Sensor (EN-MG): Gate magnetic signal input.
Wiegand: WG26/34 input (External Reader) & WG26/34 output.
Package Contains

Face Recognition Device.

USB Cable & Power Adapter.

User & Installation Manual.

Application

Home, Office, Apartment, Department & Hotels.