POS device - A Multi Solution Breakthrough

With the industry's most advanced and awardwinning arcade debit game card readers. Wecontinue to lead the industry today with our new POS Game Card Readers, that are unlike anything else in the market. Create memorable experiences for your customers with our RFID POS Game Card Reader System. Our integrated system allows you to manage all functions from one place and greatly simplify operations.

Key Highlights
Multiple User Login Options
View complete transaction history of .customers.
Easy to install and simple to use.
Feedback system with each game
Integrated support for redemption
Reverse any erroneous transaction
Customer history for customer tracking
No limit of device adding.
Benefit of System
Automated Process
Speed up routine processes. Free up staff time and effort, and reinvest it in delivering customer service.
Engineered to work with less man-hours, easy to install, operate and maintain. Best of all you can do away with tokens and tickets.
No more coin, token jams or claims for staff to pursue and troubleshoot.
No more labour-intensive coin collections and reconciliations.
Easy to install arcade debit game card readers. Easy to maintain and have limited impact on game cabinet.
Main paper ticket, convert to e-ticket, or allow dual operation with individual player preference for paper or e-ticket.
Improve Control
Find everything you need to know about your business in one place. Make informed decisions faster.
Grow Your Business
Our smart technology scales with your operations and evolves to keep pace with market trends.

Increase Revenue
Build great customer experiences. Reduce errors and turnaround times. And watch your revenue grow!
Eliminate Losses
Say yes to cashless transactions. No more missing amounts and pilferage. Just peace of mind for you!
Deliver Delight
A system that your staff can use with minimal training, allowing them to focus on delivering delight to your guests!
Software Features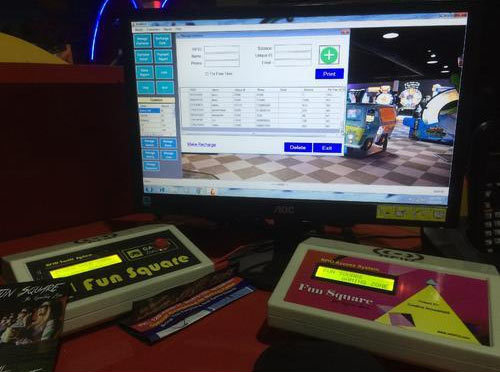 Our POS software supports the Multiple user login options and with respect to user login permission of account, access can limit.
Supports normal and bonus based recharges
Supports time-cards, discount plans, combo packs
Customer history for customer tracking
View complete transaction history of customers
Reverse any erroneous transaction
Integrated support for redemption
View running games
Module to create users and provide different levels of access to each
Creation and management of technical cards
In-depth reports of game zone sales and resources
Easy add or delete of games any time.
Automated price change feature which displays over the device. so user/customer can aware of the price of the game
Automated Ticket added over user/customer account which He/She can redeem any time.
Easy configure the price of the game as per weekdays.
No need to login into the software application to run.
No limit of device adding
Can run on multiple systems at the same time to create multiple recharge or support station
Feedback system with each game to reduce the error of operation.
Easy to install and simple to use.
Option to add Manual tickets if the automated feature not required.
Technical Specifications
RFID P.O.S device features
The device has an in-build wifi controller to communicate with the server.
Handshake protocol with NAT
Reconnection time is less-then 99ms
Device size 4.5 x 3.5 inch.
The device has a 60x2 alphanumeric LCD to display information and the price amount of game
The device has an in-build buzzer, RFID module and card punching indication
The device has push-button for payment confirmation on card punching.
If payment is not confirmed then after a few seconds the session will time-out
The device can easily be replaced with the coin management system.
The device will display connection status with router and server and IP information.
It will display the amount and the trigger can be updated from the server.
The device can operate from 9volt to 36 volts d.c
The device has a reset button for easy configuration with any new router.
10 sec required to configure any new device
If the device is not configured then it auto display the message of configuration
The device has a unique feature to display the signal strength of the router